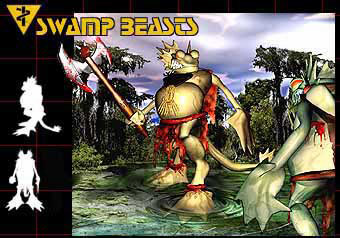 Swamp Beasts



The Swamp Beasts, crude and ill-mannered, are driven by brute anger, insatiable appetites, and general dislike for other beings. Their primitive social structure rests solely on a "might means right" mentality.

Although their own technological development is hardly beyond crude bladed weapons and fishing nets, these crafty amphibians have pirated several off-world technologies for their fiendish purposes. Their ability to effectively use, produce, and repair foreign technology has proven sufficient to compete with other interplanetary species.

As conquerors of worlds, the Swamp Beasts have three primary motivations: First, their love of muck-infested, maggot-ridden swampland drives them to the glorious goal of terraforming every known world into a humid bog. Second, Swamp Beasts have an endless hunger, which they satiate by consuming each other, other sentient creatures, and just about anything in sight. Finally, a strange cult of Swamp Beasts known as the "VooDuVu Clan" practices an ancient, primitive religion of zombie worship. These tribal people search for victims to sacrifice to their zombie-god, M'Tulu.