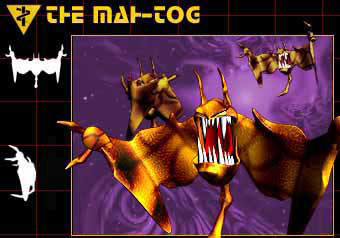 The Mah-Tog



An ancient race originating in the previous universe and preserved by Dr. Ego, these bat-warriors quest to restore their kind to former glory. The Mah-Tog were once the right-hand allies of MegaBot 206. When 206 vanished at the Darius Conflict, these fierce fighters took it upon themselves to personally try and recover their megabotic ally and the missing Sludginator.

The Mah-Tog, although allies of the Acutron, are known to act with reckless ambition...making their species unpredictable in intergalactic encounters.

Nibor, the recognized leader of this species, has been a major advocate of Ultracorps cohesion since the Corps' formation centuries ago. All renegade Mah-Tog warlords are said to be subject to his dire vengeance.