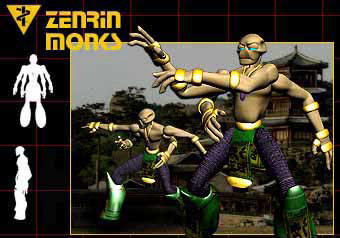 Zenrin



These quadrumanous bipeds are composed of a semi-carbonic substance blended with a rare organic Ultranium derivative found only on Zenrin solar worlds. Characterized by redundant skeletal structuring, dual brain centers in the head and abdomen, and unique no-contact muscular jointing, The Zenrin possess perfect physiques for weaponless combat.

Although this ancient race has long allied with the Acutron, technology never fascinated their people. Adequate travel and communications are used by all Zenrin, but their culture's focus is on spiritual evolution and physical discipline, rather than technical expertise or innovation.

Trained from the young age of 20 decacycles in the ancient way of DinChoFu, Zenrin monks are the unchallenged masters of unarmed combat in the known universe. As warriors they have disabled entire starship crews single-handedly, while as philosophers their achievements rival even the vast consciousness of the Acutron.

This serene, elegant culture devotes itself to peace preservation and order in the universe. Zenrin monks, present at the construction of the Acutron, have been loyal servants in the name of intergalactic peace. Although they will take part in war, Zenrin interest lies in the enlightenment of all sentient beings.