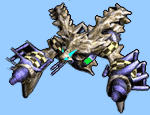 Updated 11-17-2009
We know about these bugs, so you don't need to report them. If you notice a new bug, please send mail to help@ultracorps.com. Be sure that BUG is in the title of your mail.
Isn't it wonderful? No known bugs at all right now except the missing art. We're sure some more will appear.
Art Bug - The Blood 99 Turret and N-Class v3 use the same illustration, and the Scuttler has temporary art (we love it, but it's temporary). We also need more Nozama images. Priority: low.
Commonly Reported Bugs That Aren't
Firepower Doesn't Add Up - This is our most commonly reported bug. It's not a bug :-) A fleet is more effective than its separated units, and a fleet's firepower is greater than that of its components. See Firepower for more details.
Broken Map Images - Also not actually a bug. If you're getting broken maps, your browser is caching old pages. Please adjust your browser to check the page on the server every time.
Docco Issues
If you see a problem with the online help files, please report it to help@ultracorps.com.