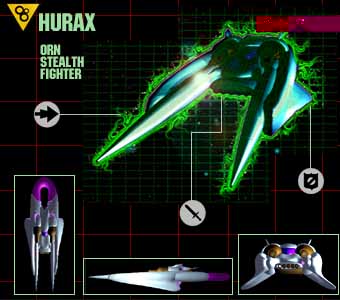 This high-speed fighter is equipped with a unique stealth field. Although visible to scanners when in transit, the Hurax is absolutely undetectable when stationed at a planet. Cunning warlords have been known to use these craft to make a world appear defenseless, drawing unwary attackers into a devastating trap. The drawback, of course, is that an attacker who cannot see your fighters may not be deterred by them!

Though the Hurax is classed as a fighter, it packs more punch than other units its size, and its stealth field makes it much harder to kill. Therefore, it is far more costly and complex than standard fighters.

Cosmic Needle Men can build the Hurax Stealth Fighter for 135 CPX and price capped at 100 Ult.