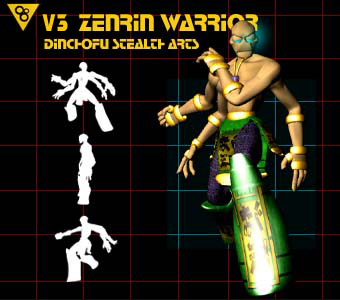 This unit is created by upgrading the Zenrin Fighter v2 with DinChoFu Stealth Arts.
"From the slimmest of shadows he emerged, and before I could respond, a blur of motion whirled from one deck officer to another. Soon my crew lay slain, and there stood the silent form of a Zenrin Warrior. His bones pulsed with a powerful lightness, and his feet seemed barely to touch the floor. I knew the battle was lost, though our screens showed not a single enemy craft."
- B'rak T'Orc, VaT'ak High Commander
Training in The Art of Silence upgrades this warrior to the Zenrin Master v4.